Below is my biography of Major Whitford. There is no biography of him in the National Archives.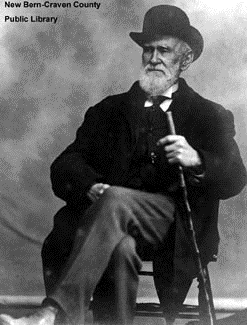 Photograph taken in the 1890-1910 period.
Photograph from the New Bern, N. C. Public Library
John Dalton Whitford was born in August 17,1825 in New Bern, N. C. and died on September 13, 1910. His wife, Jeanie Reid was born in Wilmington in 1829; they married in 1851. In 1860, they had three small children at home, in New Berne, Craven County. Whitford was President of the Atlantic & North Carolina Railroad and reported Real Estate worth $4,000 and Personal Property of $15,000. They would eventually have seven children.
At the age of 21, Whitford was elected Intendent (Mayor) of New Bern, N. C. He then served as Collector of Customs at the port of New Bern (an important and responsible position at the time). He was elected President of the Atlantic & North Carolina RR in 1854 at the first meeting of stockholders. He remained President until July, 1866, when he was elected to the North Carolina Senate. In June, 1867, he was again elected President of the Atlantic & North Carolina RR and again held the position for several years.
Whitford was an active fireman in the New Bern volunteer fire department and was foreman of one of the companies for many years. He was a founding member of the New Bern Light Infantry company and, in 1859, received a pitcher cast from silver dollars donated by members of the Company. He was a member of the state Commission for the improvement of the Neuse River and was a member of the convention which passed the North Carolina Ordinance of Secession. After the War, he was involved in several business ventures based in New Bern and was elected to represent Craven County in the North Carolina Senate elected in November, 1865.
John died in 1910 and his wife died in 1865.
There are about 600 documents in the John D. Whitford collection at the North Carolina State Archives. Over 90% of them are Civil War period, with hundreds of telegrams related to railroad movements in central and eastern North Carolina. Unfortunately, the telegraph operator at Goldsboro, N. C. did not think it worth his effort to include the month or year on most of the telegrams, so I will have to do a lot of research to estimate the dates of most telegrams -- and some will probably end up with no month or year.
February 19, 1861
Whitford praised for ordnance improvements
April, 10-20, 1861
Went to Richmond and ordered ordnance material from Tredegar Iron Works
July 9, 1861
Was appointed a Confederate Loan Commissioner
July 15, 1861 through May ?, 1862
Acted as Chief Ordnance officer at New Bern, N. C. Had cartridges made, harnesses repaired, muskets converted, etc.
October 8, 1861
Asked if his road had any Raleigh & Gaston RR cars
November 14, 1861
Governor Vance request help with iron removal question
April 1, 1862
Chairman of Convention to make plans for moving troops in North Carolina
April 18, 1862
Will see a train of tomorrow
April 19, 1862
Send trains for troops
May 4, 1862
Ordered to burn cotton on Atlantic & North Carolina RR if in danger of capture
August 1, 1862
Appointed to Commission to study railroad transportation
August 20, 1862
Probably in Augusta at Commission meeting
August 23, 1862
Given order to impress a train
September 1, 1862
Bill for use of cars
October 10, 1862
Signed a contract for English supplies with Chamberlain & Co
October 24, 1862
Asked to send a train to Tarboro for corn
November 27, 1862
Provided a train to ship cotton for the Government
Give up the iron to the Navy
November 28, 1862
Noted as General Transportation agent for the Government at Goldsboro
January 15, 1863
Was providing transportation against a possible enemy move against Wilmington
January 20, 1863
Certifies having detained rolling stock
January 26, 1863
Whitford's services of great value to the Government; was helping on railroads; resigned when Wadley arrived; persuaded to resume his duties and represent Wadley
January 27, 1863
Whitford retained as Transportation Agent if Wadley wants him
January 28, 1863
Was asked to give up the iron of his RR
March 25, 1863
Asked about rates for transportation and for his pay
April 1, 1863
Iron being moved in North Carolina
May 1, 1863
Agrees to us Atlantic & North Carolina RR rolling stock to assist Wilmington & Weldon RR and Raleigh & Gaston RR
May 30, 1863
As President of the Atlantic & North Carolina RR, changes the location of the annual shareholder meeting
June 15, 1863
Sims asks Whitford to join RR Bureau
July 3, 1863
Elected a Director of the Atlantic & North Carolina RR
July 7, 1863
Capt. Sims reports that Whitford will accept a position in the Railroad Bureau
July 9, 1863
Appointed Major and Quarter Master
Informed by Lt. Col. Sims that he will now report to Sims and continue to perform his duty of supervision of transportation at Goldsboro
August 1, 1863
Several communications to Sims must await his return to the office
August 10, 1863
Ordered to hurry on the guns at Weldon
Ordered to ship all possible corn to Richmond
August 16, 1863
Involved in moving iron for the North Carolina RR
August 24, 1863
Responds to Sims regarding Morfit's beliefs regarding other cars on the Richmond & Petersburg RR
August 28, 1863
Sims instructs Wilmington & Weldon RR regarding orders through Whitfield
August 29, 1863
Urged to forward corn from Charlotte
September 2, 1863
Ordered to send cars to Richmond with locomotive waiting at Petersburg
Sims orders him to send 6 flats for guns
Ordered to forward rapidly 55 ambulances to Bragg's army
September 7, 1863
Conducting troop movement

NCA, RRB 9-6-63
H, RRB 9-7A-1863
H, RRB 9-7B-1863
RRBAT 9-7-1863
NCA, RRB 9-8-63
NCA, RRB 9-8B-63
NCA, RRB 9-8C-63
NCA, RRB 9-8D-63
H, RRB 9-8-63
H, RRB 9-8H-63
NCA, RRB 9-9-63
NCA, RRB 9-9B-63
NCA, RRB 9-9C-63
NCA, RRB 9-10-63
NCA, RRB 9-10A-63
H, RRB 9-10-63
H, RRB 9-11-63
NCA, RRB 9-11B-63
NCA, RRB 9-11C-63
NCA, RRB 9-11D-63
NCA, RRB 9-12-63
NCA, RRB 9-12A-63
NCA, RRB 9-12B-63
NCA, RRB 9-12C-63
NCA, RRB 9-12D-63
NCA, RRB 9-13A-63
NCA, RRB 9-13B-63
NCA, RRB 9-14-63
NCA, RRB 9-15-63
NCA, RRB 9-15A-63
NCA, RRB 9-15B-63
RRBAT 9-15A-1863
RRBAT 9-15E-1863
H, RRB 9-16-63
NCA, RRB 9-16A-63
NCA, RRB 9-16B-63
NCA, RRB 9-16C-63
NCA, RRB 9-18-63
RRBAT 9-25-1863
NCA, RRB 9-xx-63
NP, RSTD 10-28-63
NCA, RRB 10-31-63
NCA, RRB 11-10-63

September 8, 1863
Ordered to press forward corn from Charlotte and Wilmington
September 25, 1863
Is told that Sims has gone south
October 3, 1863
Pushes ambulance shipment
October 4, 1863
Requested to send a train for ambulances
October 9, 1863
Receives schedule for Roanoke Valley RR rail removal shipments
October 12, 1863
Ordered to be present for training by Mayo
October 19, 1863
Asked for train for wood
October 23, 1863
Reports on various matters to Sims
October 25, 1863
Maj Pierce needs a train
October 26, 1863
Report sent to him regarding repairing several cars
November 9, 1863
Asked for cars in Wilmington
November 13, 1863
Shipping corn
Sims asks him to attend a convention as an advisor
November 16, 1863
Is asked how to improve the Wilmington & Manchester RR
Gets report of corn at various stations
November 24, 1863
Reports his status to the QM General
December 9, 1863
Sims asks him to move a shipment of potatoes
December 16, 1863
Urged to ship corn night and day
December 18, 1863
Informed 3 trains sent for artillery
Asked for trains to remove exposed corn
December 19, 1863
Asked for train for troops and corn at Tarboro
January 1, 1864
Sims warns of large corn shipments about to start
January 5, 1864
Reports he has never had a clerk
January 8, 1864
Asked if he has resigned his position
January 14, 1864
Is requested to ship RR iron to Greensboro
Asked about corn from Charlotte
January 15, 1864
Asked about corn shipments and RR Bureau officer
January 21, 1864
Sims requests he come to Richmond
Informed Wilmington & Weldon RR will follow Whitford directions
January 31, 1864
Keeps Goldsboro telegraph office open for transportation needs
Ordered rolling stock for troop movement
January ?, 1864
Railroad matters in eastern North Carolina
February 6, 1864
Conducting troop movement
February 8, 1864
Sims suggests a meeting in Petersburg on the 12th
Mallory asks his help in moving armor in North Carolina
February 9, 1864
Requested to forward boiler for ironclad under construction in Kinston
February 11, 1864
Informed of the need for additional wood for Charlotte-area mine
March 19, 1864
Ordered to submit list of his RR employees
April 11, 1864
Dropped from the rolls of Army officers by Special Order 84/23 of the Adjutant & Inspector General. Continues to be President of the Atlantic & North Carolina RR.
April 20, 1864
Wrote Sims about investigation of Wilmington & Weldon RR superintendent
June 15, 1864
Continues train running arrangements with Wilmington & Weldon RR
June 22, 1864
Gen. Hoke asks for 25 flats to move artillery
June 23, 1864
Sims responds to request for 2 details
July 12, 1864
Re-elected President of Atlantic & North Carolina RR
July 16, 1864
Asks for Sims help in closing out his pay account
September 17, 1864
Informed of supplies found for his RR
September 29, 1864
Sims informs him that the Treasury Department is trying to pay RR companies quickly
March 2, 1865
Reports all his cars are in use
March 10, 1865
Asked to hold all his rolling stock at Kinston