There is no biography of Captain Raoul in the National Archives. Below is my biography of the man.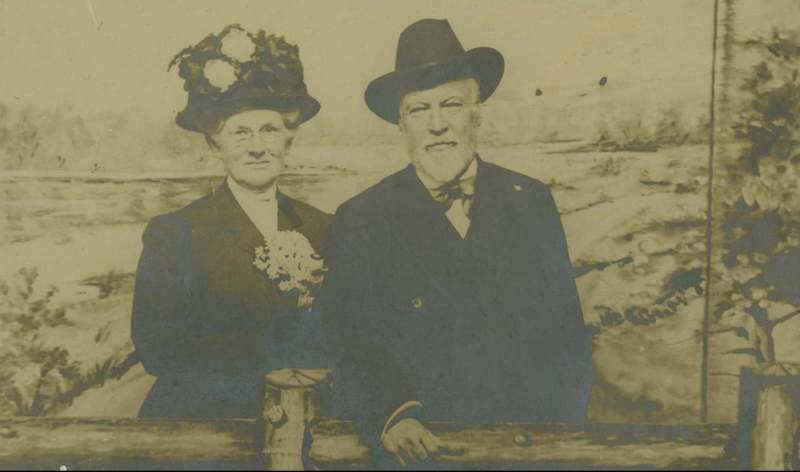 William G. and Mary Wadley Raoul
(Image provided by Emory University Library)
William Greene Raoul was born July 4, 1843 in Louisiana. He joined the Washington Artillery and fought in numerous battles in the east. In 1864, he was promoted to Captain in the Quartermaster Department and ordered to report to Lt. Co. Sims to oversee railroad car production.
After the war, he returned to work in the family railcar construction business, at Independence, La., until it failed in 1870. In 1870, with the help of father-in-law William Wadley, company President, he moved to Georgia and began a career on the Central (of Georgia) Railroad. When Wadley died in 1883, Raoul was elected his successor. He held the position until he was defeated by E. P. Alexander in 1887. Subsequently, he was President of several other railroads. He died in 1913 in Atlanta.
Raoul married Mary Wadley (born in 1848) in 1868 in Savannah. They had eleven children. They built two homes in Atlanta, one of which was on the National Registry of Places until its destruction by fire.
Raoul was one of the first to develop Asheville, North Carolina into a destination, starting in the 1880's.
When he joined the Washington Artillery, at age 18, he was officially described as having a light complexion, 5 ft 8 inches tall, with brown hair and gray eyes.
March 10, 1862
Enlisted in Company 2 of the Washington Artillery in New Orleans. His service record shows him present from then until he was admitted into Richmond Hospital #9 on January 18, 1864. He remained absent until his promotion in March. His service file shows him present at the following battles:

| | |
| --- | --- |
| Yorktown, Va. | Apr. 25, 1862 |
| Mechanicsville, Va. | May --, 1862 |
| Rappahannock Station, Va. | Aug. 23, 1862 |
| 2nd Manassas, Va. | Aug. 30, 1862 |
| Sharpsburg, Md. | Sept. 16-17, 1862 |
| Fredericksburg, Va. | Dec. 11-13, 1862 |
| Chancellorsville, Va. | May 2-3, 1863 |
| Gettysburg, Pa. | July 3, 1863 |
| Williamsport, Md. | July 6, 1863 |

March 21, 1864
Sims requests he be promoted to Captain and AQM and assigned to Sims to oversee the construction of 225 railroad cars
June 30, 1864
Hired his servant to be the Railroad Bureau office messenger
Paid for trains standing by
July 26, 1864
Receives 6 box cars from the Petersburg Iron Works
August 17, 1864
Received cars and castings for cars
August 22, 1864
Received 180 pounds of waste
August 25, 1864
Receives 3 box cars from Petersburg Iron Works
September 3, 1864
Received castings for cars
September 10, 1864
Receives 2 box cars and 1 box car body from Petersburg Iron Works
September 20, 1864
Paid for moving and repairing trucks and a bridge
September 30, 1864
Paid a carpenter
Certified the purchase of car locks
October 1, 1864
Receives 1 box car body from Petersburg Iron Works
November 14, 1864
Receives 8 box car bodies in Raleigh
November 21, 1864
Pays for 21 casting for cars
December 1, 1864
Pays carpenter for 2 months
December 31, 1864
Buys car castings
February 1, 1865
Receives request from Sims for his proposed reply to an inquiry regarding Raoul's fitness for managing the building of cars
February 8, 1865
Tredegar complains to Sims that it cannot meet Raoul's demands for wheels
January 17, 1913
Died in Atlanta